Rated:
Not Rated
Length:
1:54



Movie Profile

The Setup
Shot in 1999 and 2000, this documentary follows the efforts of two Italians--one a surgeon, the other a war correspondent--as they try to set up an emergency hospital in northern Afghanistan. But with bullets and rockets flying everywhere, routine tasks like picking a location and hiring a staff prove nearly impossible.

The Breakdown
There's plenty of brutal war imagery in "Jung," given the reality of Afghan life for the past couple of decades. And, certainly, there's plenty of heroism, given the film's subject matter. But what makes this story special is the way it captures the Afghans' own response to the hospital project. As the locals line up to volunteer their efforts and interact with the Westerners who have come to aid them, "Jung" transcends the morbid realm of war and becomes a testament to humanity and courage.
Bilge Ebiri




User Reviews
Current avg. rating:


(1 review)
Write a review
One recent review is listed below...
A movie about real heros and real people
(

)
Posted by Daniel on Nov. 30, 2001

[from newyork.citysearch.com]

This is an unbelievable documentary about Afganistan, its beautiful and devastated people, and real heroes who save the world one person at a time. For those interested in non-CNN (and before CNN)view of the civil war in Afganistan, the effects of land mines on civilians and some interesting characters, including Massood and Rabbani.


Find a user review that is inappropriate on this page?
Click here to begin our Request Removal process. Please note, only reviews that do not adhere to our User Review Guidelines will be removed.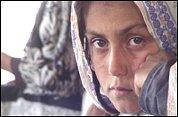 Movie Info
DIRECTOR
Alberto Vendemmiati, Fabrizio Lazzaretti
LINE PRODUCER
Giuseppe Petitto
LINKS
Official Site
OTHER FEATURES
Cinematographer: Fabrizio Lazzaretti
Distribution: Karousel Films